NEWS - Page 1/1
Sept. New Artwork by Hans Some
main material steel, gold leaf 24K, 2011 by Hans Some *1968 Munich, Germany
What an interesting, and unique, view from under !

more pics at http://hxsome.wordpress.com/2012/12/31/toteninsel-1/

June- July 2012 Update
We updated the gallery/ilustration page with a better pic and infos about Franck Ulmer, Alph, Li-An, Paul Lehr and Bordon, new additions about comics authors Schuiten and Peeters, an interesting stereoscopic digital picture by Stoic decay, a page about Vladimir Kush with 2 paintings that remind the Isle by Böcklin. Also nice copies of the version III. Then eventually loaded a hundred (!) paintings by Antonio Nunziante. New paintings by Borislav Sajtina, Michael Pucciarelli aka Pooch and Christian Broutin, updates about Salvador Dali.
Thanks to Catherine Larenaudie.

Check our gallery of paintings/ comics/ illustrations, Schuiten and Peeters, Vladimir Kush page, Antonio Nunziante page, and stereoscopic digital images, other digital by Gino Caspari, Vilk Stolem, and new copies

Added also 3 paintings by Alessandro De Felice (2000 and 2011) also author of "Il Cesare Metafisico:
dal romanticismo artistico alla malinconia totalitaria.
Il mistero magico de "L'isola dei morti" di Arnold Böcklin "




New additions in Pascal Lecocq's paintings



Coming soon... more update about architecture, book, game, painting...:




Check our gallery of curiosity/locations with pics of the Burial Island (Eilean Munde, Scotland), Thanks to Jerôme Poignon (3 pics, 2011) and an unknown location by Ubu, thanks to Catherine Larenaudie

Check our gallery of musicians with m0re infos about the "Toteninsel"by Shulz-Beuthen, recorded by Adriano. Thanks to Adriano Kestenholz (also author of the movie Isola dei morti (1996)


Check our gallery of paintings with an interesting point of view by Martin Stejskal, also author of the article: Arnold Böcklin, smrt, Cyp?iš vždyzelený a Ostrov mrtvých (see in our homepage) and creator of a video game (to be added later here), (Thanks to Martin Stejskal, 2011)


.

Oct 2 Update
We update the gallery page with an artwork by Jim Harter, known for his visionary paintings and collage books (see his online store).

Check our gallery of paintings

.
June 11: Blog by Bill Ayton
Thanks Bill for sharing your blog:

Homage to Böcklin

I just became Facebook friends with Pascal Lecocq today. Pascal is an artist ("the Painter of Blue") and runs a web site dedicated to the Isle of the Dead painting by the Swiss Symbolist painter Arnold Böcklin (1827-1901). The Isle of the Dead is a haunting, atmospheric picture depicting an island with rock-hewn tombs, cypress trees & an approaching boat with a shrouded figure, an oarsperson, and a casket, presumably bearing a body to be interred in a tomb on the island. It's always been a favorite painting of mine, despite Böcklin perhaps not being in the first rank, artistically speaking. He painted 5 versions of the image, of which 4 survive, and, perhaps more importantly, inspired many other artists (Dali, de Chirico, Max Ernst, to name a few) & composers (Rachmaninoff, Reger, Huber) to create works based on or inspired by the Isle of the Dead.


A few years ago, I sent Pascal a drawing entitled "Homage to Böcklin", for possible inclusion on his web site. For some reason, the drawing languished for several years in a pile of things to do. However, today, after we became Facebook buddies, I resent the image, & it is now on his web site here. So, please visit his site, & see the work of Böcklin, as well as many interpretations by Pascal himself, and many other artists. Thanks again to Pascal for putting my drawing on his site.

.
See Bill Ayton's work in our gallery
March 20, Project for Black Metal Scene bands
Thanks Nidh for sharing this info: a project by records publisher Vendlus for Black Metal Scene bands about Toteninsel.
"THE AIM OF THIS PROJECT/TRIBUTE IS TO GATHER REAL CREATIVE/EFFECTIVE BANDS FROM THE BLACK METAL SCENE (OR NEAR), TO HAVE THEM WRITE A TRACK CALLED TOTENINSEL, WHICH WILL BE THEIR VERY OWN VISION, MUSICAL TRANSLATION OF THIS PAINTING AND ITS UNIVERSE.
WE HOPE TO GATHER SO ON TWO CDS TWENTY REALLY PERSONNAL VISIONS, FOR WHAT COULD BE FAR MORE THAN JUST A COMPILATION.
21 BANDS HAVE BEEN GATHERED TO PAY HOMMAGE, AND VENDLUS RECORDS (USA) IS GONNA RELEASE THIS TRIBUTE" as read on Myspace.
List follows.

To continue...
March 5, spoof on Ebay Germany at 15,000.00 euros!
Bad reproduction of the Leipzig version sold as "original" on Ebay Germany: "Die Toteninsel - Arnold Böcklin - 5te Version von 1886", starting at 3,500.00 euros, and Buy it now at 15,000.00 euros, no kidding!

See details online or on document PDF here.
March 5, Erlend Mørk's contribution
We receive a great contribution by Norvegian photographer Erlend Mørk:
lo sentient!(2007)
Sharp image with impressive cypress. Composition on the boat is a great piece too.
Perfect title, the anagram matches by the way all the contributions here!!! The best we could imagine.
See details
Print available: Giclee on paper,Image size: 97,8 x 59,4 cm (38,5 x 23,4")
Cost: 320 EUR at Erlend's online store.
Published in our online gallery soon.

Sept, copy 1921 (?) on eBay
New copy available on ebay
By Unknown (?), 1921 (?). Interesting version including references to Böcklin's "sacred woods".
Auction ending 16.09.07 21:10:00.
link: http://cgi.ebay.de/Toteninsel-sign-orginal-1921-Jugendstilrahmen_W0QQitemZ270158954948QQihZ017QQcategoryZ135711QQssPageNameZWDVWQQrdZ1QQcmdZViewItem
Sold from Munich (Germany).
"Sehr stillvolle Jugendstil Toteninsel! signiert mit x l 21 (1921)
Unbeschädigt!!!!!
mit mythologischer Opferszene! in schönen blau-grün Tönen.
War immer in Familienbesitz!"

The picture is 50cm x 40cm, frame 67cm x 57,5cm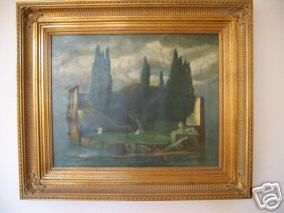 Sept: Looking for music in digital format
Hi there, I'm a Toteninsel fanatic, have all the music on cd and all the prints (version III\'s my favorite). However, I've had trouble getting the sheet music (i.e. the orchestral score) in digital format - it should be in the public domain by now. Any hints on where to look? Cheers
Paul Daniels - Australia
Reply post appreciate using our guestbook

June: Photography by Thomas Herbrich
German photographer Thomas Herbrich created "Isle of the dead" in 2006, mixing photographies, image processing and a scale model of the Island, by modelmaker Markus Herbrich.
Thomas made a very interesting text Howdone about his inspiration and progress to achieve his counterpoint work. You can read it here.
As a mixed media artwork, and without appropriate section, we add it in our sculpture gallery.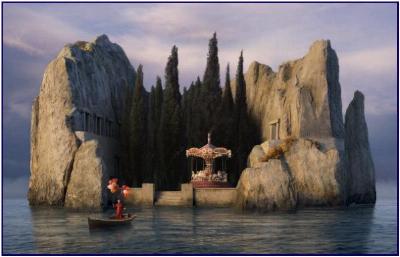 Thanks Thomas to have shared your wonderfull artwork with the Toteninsel Community