NEWS - Page 1/1
Sept, copy 1921 (?) on eBay
New copy available on ebay
By Unknown (?), 1921 (?). Interesting version including references to Böcklin's "sacred woods".
Auction ending 16.09.07 21:10:00.
link: http://cgi.ebay.de/Toteninsel-sign-orginal-1921-Jugendstilrahmen_W0QQitemZ270158954948QQihZ017QQcategoryZ135711QQssPageNameZWDVWQQrdZ1QQcmdZViewItem
Sold from Munich (Germany).
"Sehr stillvolle Jugendstil Toteninsel! signiert mit x l 21 (1921)
Unbeschädigt!!!!!
mit mythologischer Opferszene! in schönen blau-grün Tönen.
War immer in Familienbesitz!"

The picture is 50cm x 40cm, frame 67cm x 57,5cm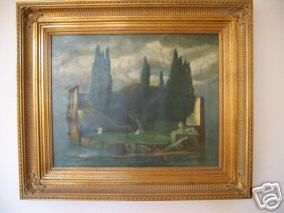 Sept: Looking for music in digital format
Hi there, I'm a Toteninsel fanatic, have all the music on cd and all the prints (version III\'s my favorite). However, I've had trouble getting the sheet music (i.e. the orchestral score) in digital format - it should be in the public domain by now. Any hints on where to look? Cheers
Paul Daniels - Australia
Reply post appreciate using our guestbook

June: Photography by Thomas Herbrich
German photographer Thomas Herbrich created "Isle of the dead" in 2006, mixing photographies, image processing and a scale model of the Island, by modelmaker Markus Herbrich.
Thomas made a very interesting text Howdone about his inspiration and progress to achieve his counterpoint work. You can read it here.
As a mixed media artwork, and without appropriate section, we add it in our sculpture gallery.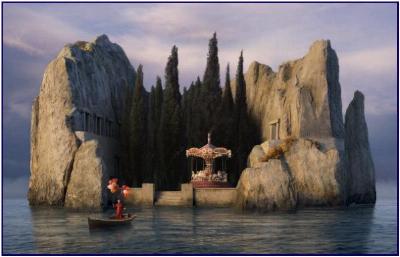 Thanks Thomas to have shared your wonderfull artwork with the Toteninsel Community
May 31, Saatchi Gallery Showdown contest
Impressive painting by Hubertus Maass, winner of Showdown Head-to-Head Round Four at the English renown Saatchi Gallery with an "Insel der Tuerme".

Artwork still in competition for overall winner.

Pay a visit to the online Saatchi gallery and support his contribution.
Detail in our gallery
April, copy 1927 on eBay
New copy available on ebay
By Weiss (?), 1927 (?). But we saw so many "ancient copies" just handmade by Chineses or Eastern Europeans the last years...Can't say it's a great piece of work.
Auction ending May 8th, 2007.
link: http://cgi.ebay.com/WEISS-A-VERY-FAMOUS-PAINTING-ISLAND-OF-THE-DEAD-OIL_W0QQitemZ200104863843QQihZ010QQcategoryZ20132QQssPageNameZWDVWQQrdZ1QQcmdZViewItem
Sold by a gallery based in Copenhagen, Denmark, with ex-yougoslavian expert...
Size without frame:
The picture is 45 cm / 17.5 inches high and 68 cm / 26.5 inches wide.
The frame itself is 10 cm / 4 inches wide.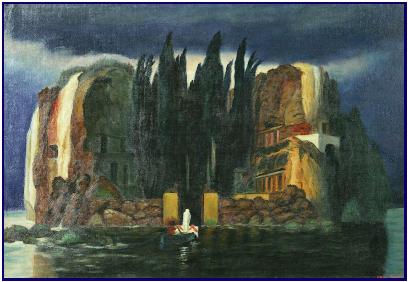 Jan, A new painting by Hikaru
Thanks Hikaru to share his last painting about the Isle of the Dead:
"Navigation"
An Isle of the Dead-Venice theme with an innovative association with the Gran Canal and La Salute instead of the recurent view of the Cimiterro San Michele (L'Isola dei Morti).
Pics and info available in our gallery