NEWS - Page 1/1
Nov, copy 1930s on eBay Germany
New copy availlable on ebay "Meisterlicher Prunk Ölgemälde -Die Toteninsel- sig 1930.

Auction ending Nov 24th, 2006.
link: http://cgi.ebay.de/Meisterlicher-Prunk-Olgemaelde-Die-Toteninsel-sig-1930_W0QQitemZ190051920192QQihZ009QQcategoryZ135711QQrdZ1QQcmdZViewItem

Copy by E.C.Jörg, 1930.
Start price 2.500 euros (!) sold by J Antik, Angela Geyer, Ipfstr.7, 70806 Kornwestheim, Germany. Tel. 07154/802021 Fax. 07154/807987

Maße 112 x 75 cm gemessen mit Rahmen.


Nov 1st, in a blog
About Böcklin's Isle, Dyneslines wrote in his blog: "This painting has enjoyed an extraordinary resonance, yielding many imitations and parodies. Pascal Lecocq, a contemporary French painter, has created a whole site: Toteninsel.net. Rachmaninoff's tone poem of 1909 is still performed. Strindberg uses the painting in his "Ghost Sonata." There have been a number of related novels and movies. And there is even a perfume called "Isle of the Dead."

Wednesday, November 01, 2006, Lecture EIGHT summary
Thank you Wayne.

Oct, copy 1940s on eBay Germany
New copy availlable on ebay "Die Toteninsel von Arnold Böcklin 1883", but it's the leipzig version 1886..

Auction ending Oct 12th, 2006.
link: http://cgi.ebay.de/Toteninsel_W0QQitemZ160036880023QQihZ006QQcategoryZ551QQrdZ1QQcmdZViewItem

Kopiert von E. Kienzle Schätzungsweise in den 40er Jahren.

Maße 110 cm auf 90 cm gemessen mit Rahmen.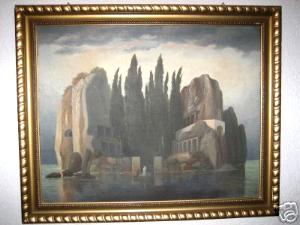 Oct 6, in a blog: Die Toteninsel
a free text in French by Yvan Nigelstadel.
Read it at Meinetwegen.blogspot.com

Sept 20th, The Piano Tuner of Earthquakes on French theater
Quay brothers' animated movie The Piano Tuner of Earthquakes (2005) on theaters in France Sept 20th, 2006.
Timothy and Stephen Quay the film makers and designers refer to Böcklin's Isle of the Dead.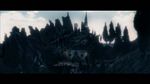 synopsis: Dark fairytale about a demonic doctor who abducts a beautiful opera singer with designs on transforming her into a mechanical nightingale.
Duration: 1h39
2005 Locarno: Mention Speciale, Main Competition & Jury des Jeunes
Sitges: Festival Internacional de Cinema de Catalunya: Best Special Effects
Trailers, pictures and interviews at the movie website
More coming soon in our movie section.
Thanks to Thierry M... to have point out this news.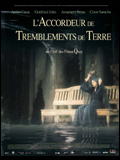 Aug 27, update
We are pleased to have added artworks by Philippe Caza, Michele Culpo, Alessandro De Felice, Kris Kolb, Muma, Leo Plaw, Salvatore Romano and Gerard Trignac and 3D by Nathalie Maury, to have complete the Roger Zelazny's page and to have added a screenshots from Mark Robson's movie.
I'm sorry to have deleted the guestbook, forums addition and comments as unscrupulous spammers spoiled them. But feel free to make comments to my main guestbook at pascal-lecocq.com as I'm able to filter them and I will ad them after checking.
Aug 24, unusual fragrance on ebay
Fresh 1ml decant of Black Phoenix Alchemy Lab\'s Isle of the Dead from The Salon collection:
The Isle of the Dead, Arnold Böcklin.
Cypress, labdanum, stargazer lily, juniper, yew, black rose, white sandalwood, benzoin and aquatic notes.
(note: this decant is not the one pictured, it is identical in every way except for the stained label)
This particular decant is in a roller bottle, which makes it both easy to apply and carry with you!
Ending Aug-28-06 16:29:16 PDT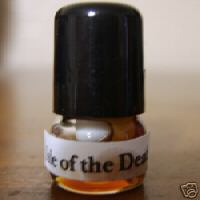 July 24th: Ernst Fuchs Toteninsel to sell
We just been notified that Ersnt Fuchs' Toteninsel engraving is available online
etching
signed and numbered by hand
edition: 100
condition: very good condition - complete
size: 17.6 x 23.6 inches

1.800,00 euro