NEWS - Page 1/1
Aug 10th: Copy 1900 on eBay Germany
Arnold Böcklin Die Toteninsel Kunstdruck
Originaltitel: 'Die Todteninsel'
Aufwändiger, gut erhaltener Kunstdruck aus der Sammlung 'Vereinigung der Kunstfreunde Berlin'. Druck vermutlich um 1900. Eine Altersangabe und Signatur ist nicht ersichtlich. Die Aufhellung im Foto unten Mitte ist auf den Fotoblitz zurückzuführen. Das Bild weißt keine erkennbaren Beschädigungen auf. Es wurde in einer Galerie gereinigt, ist hinter Glas, neu gerahmt mit Aufhängevorrichtung. Maße ohne Rahmen: 66X35 cm. Maße mit Rahmen: 73,5x42,4 cm.


Starting 08.08.05 23:02:03 MESZ for 10 days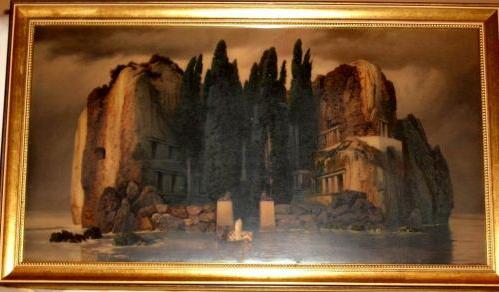 July 20, etching on eBay Germany
Original Radierung
Toteninsel - nach A. Böcklin ; unten rechts signiert: P.Stamm. Unten links beschriftet - Toteninsel .
Mit kleiner Fehlstelle im Druck, Gebrauchsspuren 29 x 40 cm über alles, Radierung 17,0 x 23,5 cm.

End of the auction: 30.07.05 15:30:51 MESZ

Location: Berlin, For details
Feel free to provide more infos about the artist and datation.
Last minute: it has been sold for 51.09 euros.
Aug 6th, LAST MINUTE/ same etching availlable on ebay Germany, same seller (is there a catch here ? is it really an original etching or some copy...?)
Auction starting for 10 days: 05.08.05 20:48:48 MESZ,
link
Sept 2nd, LAST MINUTE/ same etching availlable on ebay Germany, same seller (aristik), this time it says not signed! Auction ends Sept 11, Link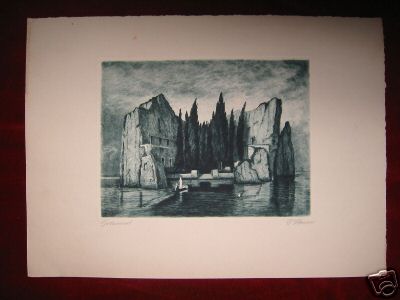 Restarting the website
We experienced many troubles with our site Toteninsel.com and we apologize for the inconvenience.
We're restarting it with a new hosting at TotenInsel.net and we hope you'll enjoy it as you did.
Many links and (hundred of) pics are not yet online, but we choose not to delay any more the reopening.
Welcome back and thanks for your support for a better website about Böcklin's masterpieces.