NEWS - Page 1/1
ebay Germany item # 2211363113 Ölgemälde Motiv Toteninsel (imOriginalrahmen)
Signierung: J. Schmidt 1935
Visionary artist Hikaru
Painter Hikaru presents one of his painting including the Böckin's theme in a personal and very interesting vision.
This member of the Society Art of Imagination will exhibit in June in the touring exhibition in Australia: "Visionary & Fantastic Art", and in the next Biennale Internazionale Dell'Arte Contemporanea de Firenze in December.
Have a look to more pictures in the AOI gallery in waiting his own page here.
See detail in "more".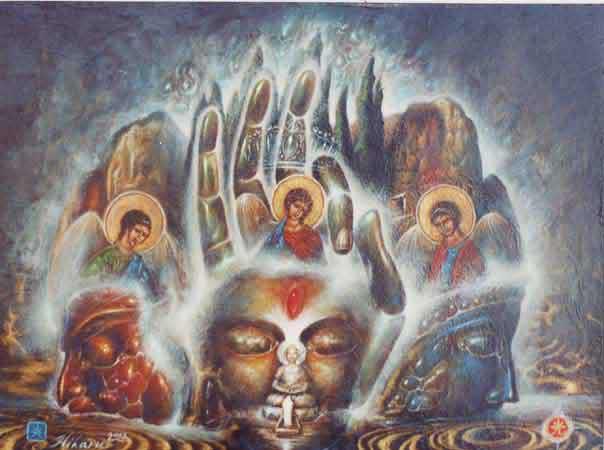 April 17, a copy on Ebay Germany
A very bad picture, no size, no name....seems to be a copy of Version V, signed on right "Mecher" (?) and dated 1932 or 1938, is available on Ebay.
Bids start at Eur 1,00 and will end the 27.04.03 20:41:17 MESZ .
Here is the text: "habe ich aus Nachlass.Gr.Bild(Öl bzw. Tempera??).Typische Malerei der damaligen Zeit des dritten Reiches,Wert??? Painting the death Iland was painted so 1938 in the third Reich.Rare???" and the link:
http://cgi.ebay.de/ws/eBayISAPI.dll?ViewItem&item=3322002270&category=7471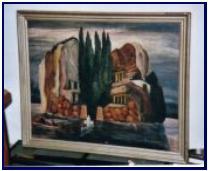 Dina Lenkovic's new website
The "blue" website of artist Dian Lenkovic is online.
This member of the Society Art of Imagination had painted a personal vision of the "Isle of the Death".
Have a look to her website and more for pictures.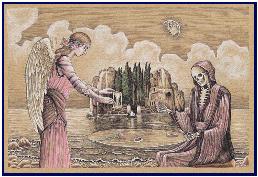 Jan 14th, Leipzig copy on Ebay Germany
A copy is auctioned on Ebay Germany and will be ended 24.01.03 15:37:59 MEZ.
This copy is signed in red, left bottom: A.Böcklin(!).
Pictures of details and reverse available.

Title: Gemälde TOTENINSEL INSEL PERSONEN A. Böcklin, Artikelnummer 2501083716.
Comments:Sie bieten hier für ein Ölgemälde mit Holzrahmen

Darstellung einer Insel mit Grotten. Links unten signiert A. Böcklin (oder ähnlich-siehe Foto). Ich kenne mich nicht aus, deshalb weiß ich nicht wie alt es ist; bitte alles den Fotos entnehmen. Ich schätze aber ,daß es älter/antik ist. Gemalt auf einer "groben" Leinwand od.ähnl. ; Hinten mit Pappe befestigt oder auch auf die Pappe geklebt. Mittig hat das Gemälde einen ca. 3-4 cm langen Kratzer ; an einer Stelle ist der Kratzer etwas tiefer (ca. 3mm) , ansonsten guter Zustand. Maße mit Rahmen ca.99cm x 75cm. Der Rahmen hat einige kleinere Kratzerchen (aber nicht schlimm). Der Blitz vom Foto hat leider reflektiert...Habe noch mehr Kunst in meiner Liste .

direct link to the page: http://cgi.ebay.de/ws/eBayISAPI.dll?ViewItem&item=2501083716&category=7471
A Leipzig Copy sold on Ebay Germany
This copy, not a lot of detail for support, date... as been sold on Ebay Germany on Jan 16 for 166 euros.

Link to the auction is http://cgi.ebay.de/ws/eBayISAPI.dll?ViewItem&category=551&item=935880776

Gemälde "Die Toteninsel" von Böcklin, Größe mit Rahmen 110cm x 80cm, Rahmen wurde neu gestrichen, das Bild ist in einwandfreiem Zustand.

Thanks in advance if the buyer can give us more details and pictures.