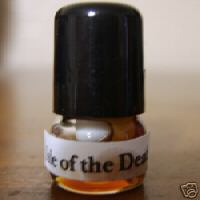 Fresh 1ml decant of Black Phoenix Alchemy Lab's Isle of the Dead from The Salon collection:
The Isle of the Dead, Arnold Bφcklin.
Cypress, labdanum, stargazer lily, juniper, yew, black rose, white sandalwood, benzoin and aquatic notes.
Available on Ebay August 2006 (see our News, you could check the BPAL website, BPAL is owned by Elizabeth Moriarty, and is based in Los Angeles, California, United States.